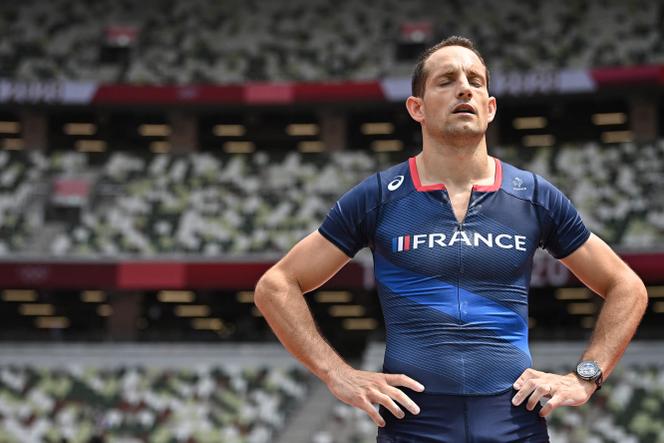 Injured in the ankle, Renaud Lavillenie could not properly defend his chances in the final of the Olympic Games, finishing in the 8e square. As qualifying begins on Friday July 22 at the Worlds in Eugene (Oregon), the 35-year-old pole vaulter, who has not been on an international podium since 2018, retains his ambitions and assumes his role as boss of French athletics .
Before you injured yourself a few months before the Olympics, you had crossed a bar more than 6 meters on January 31, 2021. Is this what drives you to continue?
This is not the primary motivation. The first is that I always enjoy jumping, training and competing. Afterwards, it is obvious that the performances of last year show that, no, I cannot stop. From there to find a level to cross 6 meters immediately, it will be complicated.
Read also
The Tokyo Olympics as if we were there: Renaud Lavillenie at the top
Do you think you can get back on a podium?
Armand Duplantis [le Suédois, champion olympique et recordman du monde] crushes everyone, but behind there are not six athletes who make 5.90 meters at the championships. This level, I know that I am still able to have it. The pleasure of being on a podium is incomparable. The last is Berlin in August 2018. The last victory is Birmingham at the indoor worlds in March of the same year. It's a bit lacking, yes [rires]. To see that I was so close to an Olympic medal and that it was gone in such a short time caused a lot of frustration.
The European Championships arrive in August, just after the Worlds. But, there again, there will be Duplantis. You regret that he does not defend the colors of the United States, where he was born and raised…
It's been like this from the start [sourire]. The Worlds remain open. I have all my experience and that's an advantage. At less than 5.90 meters, we can not hope for anything [il a sauté 5,83 mètres le 30 juin à Stokholm]. I think it's up my alley.
Then, then, we continue with the Europes [du 15 au 21 août à Munich]. By removing the Americans [Christopher Nielsen ou Sam Kendricks]the Brazilian [Thiago Braz] and the Filipino [Ernest Obiena], we end up with a fairly dense level of performance, around 5.80 meters. If I find a level at 5.90, the podium will open a little more easily.
What do you think of the next generation in France, with your brother Valentin, European indoor silver medalist, or Thibaut Collet, who recently broke his record at 5.82 meters?
You have to know how to compare what is comparable. Without being pretentious, I find it hard to say that there is a new generation, when they are only 5.80 meters tall. I'm not minimizing, it's a very good world level, but guys at 5.80, for twenty years, there have been plenty of them. At 23, I had cleared 6 meters and yet I was not a precocious pole vaulter. The day we have another Frenchman at 5.90 meters, we can talk about relief. They are still young, they have progress to make. But I'm still here and I don't intend to let myself go.
You have 53.32% of this article left to read. The following is for subscribers only.
Toutes les actualités du site n'expriment pas le point de vue du site, mais nous transmettons cette actualité automatiquement et la traduisons grâce à une technologie programmatique sur le site et non à partir d'un éditeur humain.